Deciding to relocate for your job can be one of the most exciting (and scary, let's be honest) times of your life. It's a huge step which comes with a lot of changes and big decisions, including where to live, travel arrangements, organising all of the necessary paperwork, etc. There's a lot to consider!
In this blog, we'll discuss some key considerations when relocating for work, and you'll hear from some of our Swiss team who've supported a number of job seekers looking for relocation opportunities.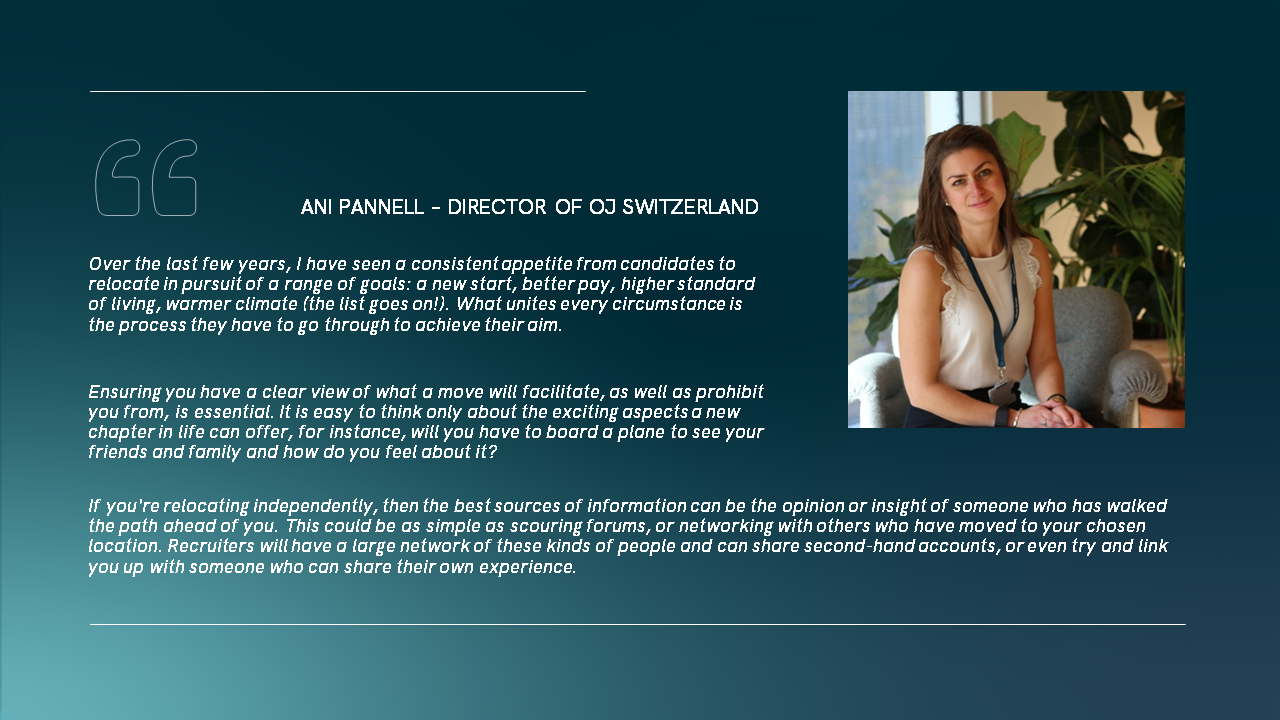 Do your research
First and foremost, do your research! There will be a wealth of information online regarding the location, so making a list of what is most important to you wherever you choose to live is vital. Whether it's being in a great school district, having a wide selection of recreational activities to choose from, or good transport links, the list of necessities will be different for everyone.
Making a list and researching multiple sources for each of your needs will help you to determine if relocating to your new office will work for you and your family, and make you feel better prepared to make a final decision.
Jack Singer, Change & IT Recruitment Consultant for OJ Switzerland, covers some of the key considerations he discusses with job seekers when relocating to Switzerland:
"The biggest consideration when relocating to Switzerland is really the cost of living. The salaries are very attractive and they're generally very good compared to other places in Europe. However, understanding the cost of living and what that will mean is especially important for you, especially if you have a family."
"In Switzerland, private health insurance is a legal obligation. The medical care really is second to none. The quality is really incredible and there are little to no waiting lists as it's all private. As soon as you've got an issue you can go see somebody straight away."
"If you are relocating with children who are of school age and you'd want them to go to school and study in English, that is a fairly high expense year on year. But also, if they're young enough, I would suggest putting them into the public school system. It really is one of the best public-school systems in the world, and it will only increase their ability to speak different languages and open doors for them in the future."
​
Hear from people who've done it
Especially if you know of other colleagues within your company that have made the same move, or who have relocated within the business in general, they'll be a great source of advice when you have questions about the move.
Having been through the experience themselves, they'll also be a great source of support from an emotional standpoint. From when you first make the decision to move, until after you're settled at your new office, it can all be a lot to take in so make sure you have people you can talk to throughout the process.
​
Stay connected
One of the biggest changes you'll need to prepare for if you do decide to take the leap across the pond, is having your friends and family suddenly thousands of miles away. This can be a huge adjustment for many, but there are ways to make the transition easier.
Making plans to regularly keep in touch, whether it's over the phone or via video calls, ensuring you stay connected with your loved ones wherever you decide to go can help the transition feel much smoother. Once you do decide to move, it's also a great idea to get yourself out there and make new connections as soon as you can, whether it's joining clubs in your area or attending local events.
Natalie Lightfoot, Principal Consultant in our Actuarial Life division at OJ Switzerland, explains how picking up new languages could be vital to connecting with new colleagues when you relocate:
"Language differences should be a consideration, so while a lot of the businesses have English as their working language, you'll also have team languages. So, it's all about how managing that interaction is going to go for you personally. If you wanted to build personal relationships internally it's best to be mindful that you may want to start studying another language depending on where you're living."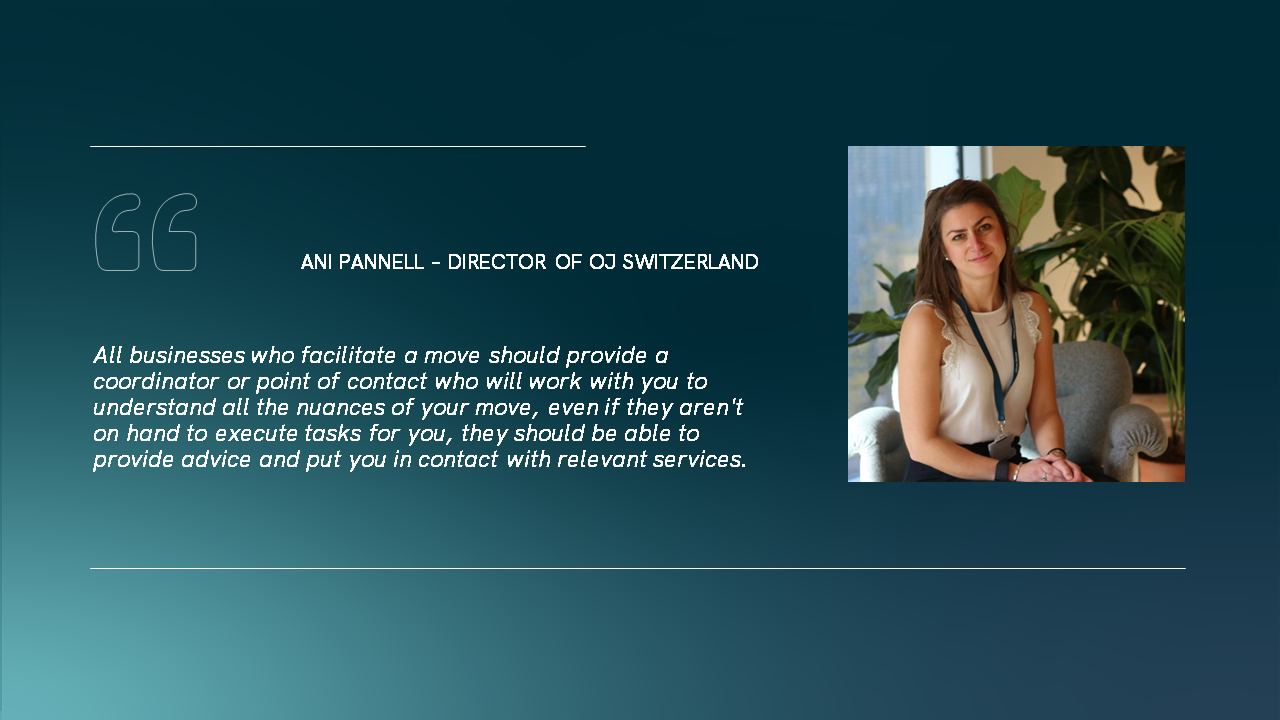 Don't be afraid to ask for help
When relocating, your employer should offer guidance and support throughout the process. From assisting you with contract compliance to travel costs, finding out what your employer offers in terms of relocation support can help you make a decision on your move and assist in the move itself.
Don't be afraid to reach out to your employer and ask for help when you need it! It's best to find out as much as you can from your employer on what they will provide in terms of assistance, so you can get a better idea of what relocating could look like for you. Some employers also offer a relocation package, so finding out what is included in this if it is something your employer offers is a great way to start.
Another avenue in which you may receive further advice and support is from your recruiter, Jack Singer explains how OJ supports candidates when relocating for a new opportunity:
"We like to build long-lasting relationships with people, and we certainly understand relocation to Switzerland can be a big step. Therefore, we want to understand as much about you and your career as possible, so we can really paint a picture of your professional and personal future and hopefully help facilitate that."
​
Watch our webinar
If you're interested in hearing more about relocation for work, the OJ Swiss team took part in a webinar in which they discussed a range of topics covering relocations opportunities and considerations for moving to Switzerland. Watch the full Webinar on our YouTube channel by clicking the image below:​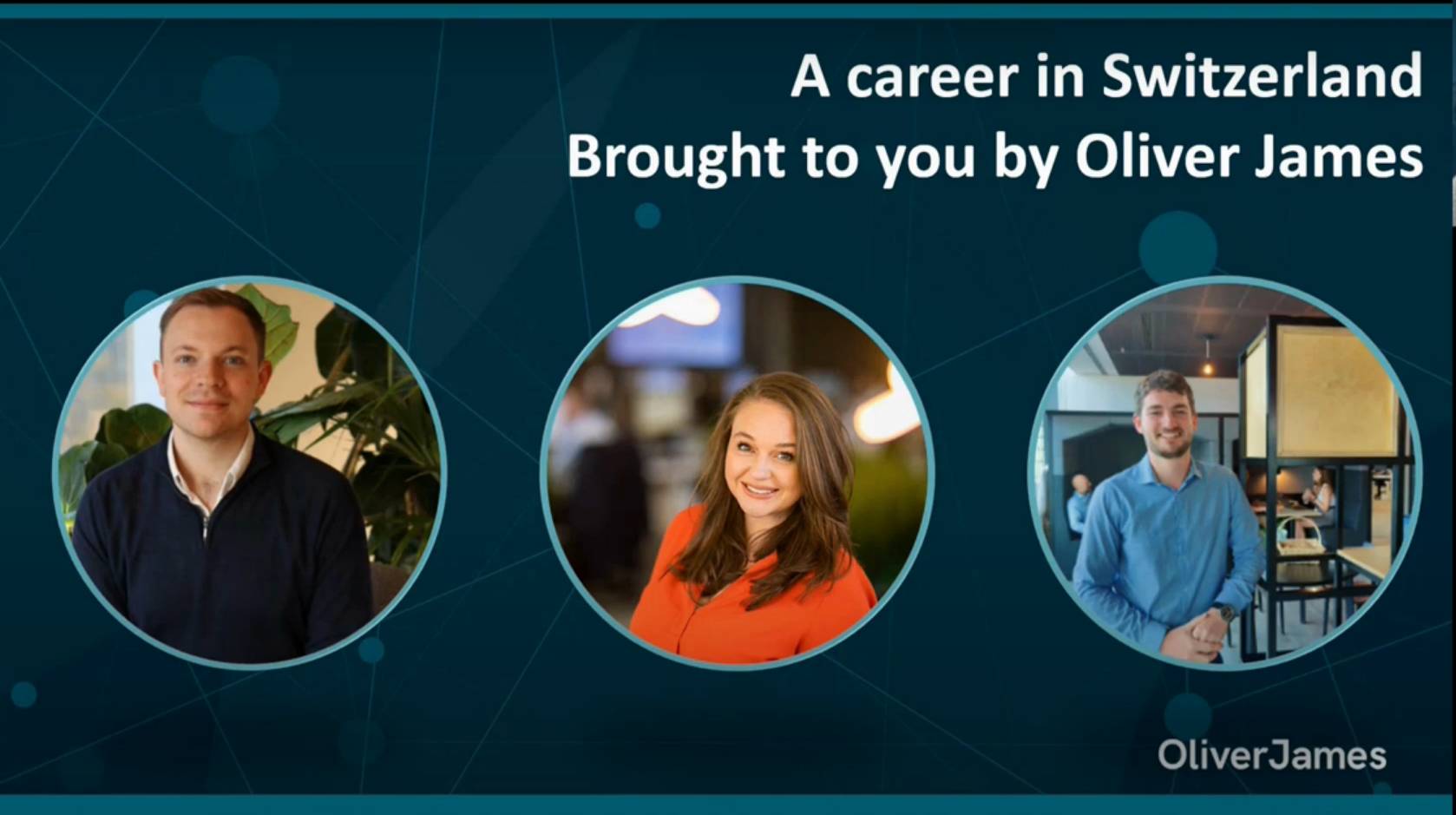 Searching for your next opportunity in Switzerland? Take a look at our latest roles on our Job Search page, we have opportunities in: