Have you experienced job search fatigue? ​
Many of us will find ourselves in this position at some point within our career, searching for a new job can feel like a full-time job in it's own right. Especially if you're in a highly competitive field, looking for your very first job, or have decided to change career paths all together. You are often competing against hundreds, sometimes thousands of applicants, many of whom have the same qualifications and experience as you.
​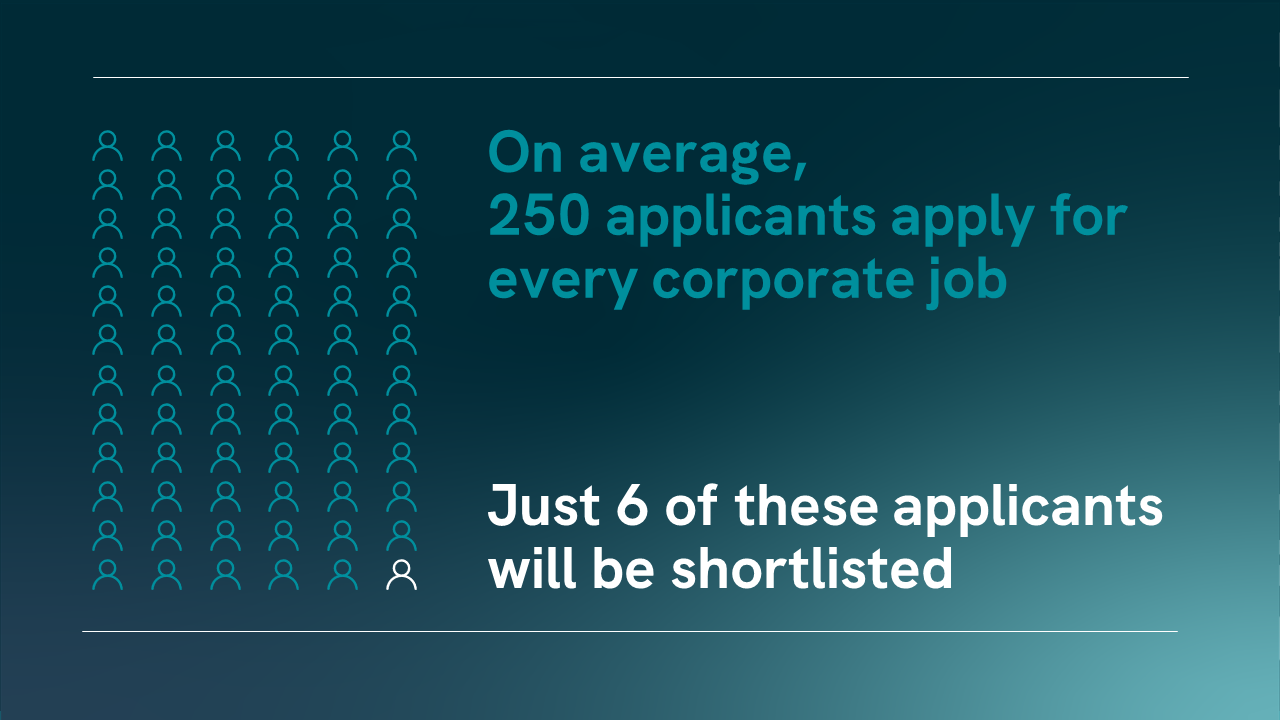 ​
The job search process is always going to be a challenge, but we've collated a list of practical steps to ensure that you put yourself in the best position for your application to be successful, whilst minimising the effect of job search fatigue.
​
Plan out the time you will spend job searching (including breaks!)
To ensure the best use of your time, plan what you will do each day, whether you have the whole day to search or you're fitting in your job search around a full-time job. This could be split into different tasks, including searching on popular job sites, researching companies you want to work for, and editing your CV and cover letter.
In between these tasks, make sure you're planning out regular breaks which involve taking a step away from the computer and doing something that you enjoy. Whether it's going for a walk, meeting a friend, or watching an episode of your favourite show, this will help you to stay motivated and make the whole process seem less overwhelming when split into more manageable, smaller tasks.
Success in general requires an end goal and a solid plan to get there. Rather than a vague, figurative aim, put a process in place that aligns objective with routine. Having set goals for each day will give you a clear view of your progress throughout the process, and encourages reflection on your goals over time.
​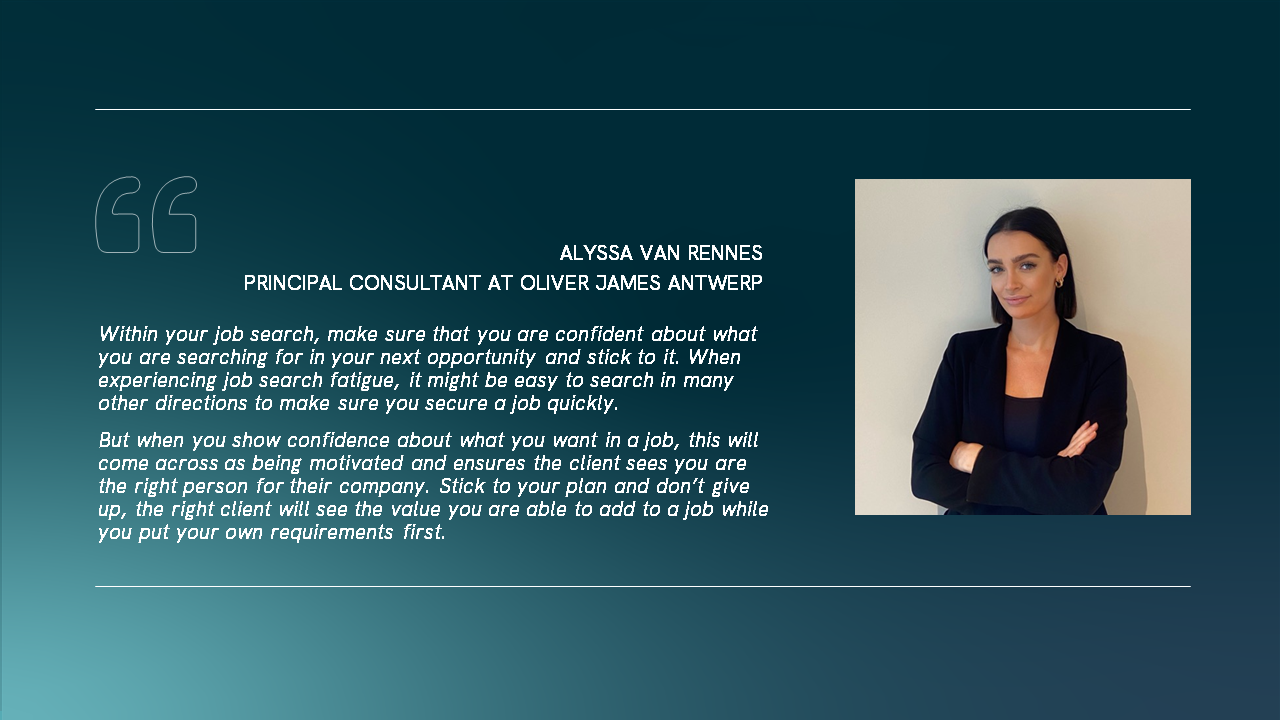 ​
Learn and reflect (and stay positive about your progress)
When you're sending out job applications every day, especially when you don't recieve a response, remember to not be too hard on yourself. Take any feedback you get on board – it's an opportunity to learn, grow, and adapt, and will in turn allow you to continually improve your applications in the future. For tips on handling rejection throughout your career, read Ani Pannell's (Director of Oliver James Zurich) blog for the Swiss Association of MBA's.
It's also important to celebrate those small wins. If you got some good feedback, celebrate it and use it to your advantage. Remaining positive throughout your job search is essential; at the end of the day positivity breeds positivity.
​
Don't be afraid to reach out and ask for help
If you aren't sure where to start, feel like you aren't really getting anywhere, or just need some advice, reaching out to a recruiter is a great way to gain some inside knowledge into the job search market. Recruiters help job seekers find their ideal opportunity every day, so they're the best place to turn to for advice and guidance throughout the process.
Going through the job search process with a recruiter to help can make the whole experience feel a lot more manageable. Your recruiter will be able to review your CV, discuss your goals and requirements with you, and use this information to match you with the businesses they're currently working with.
​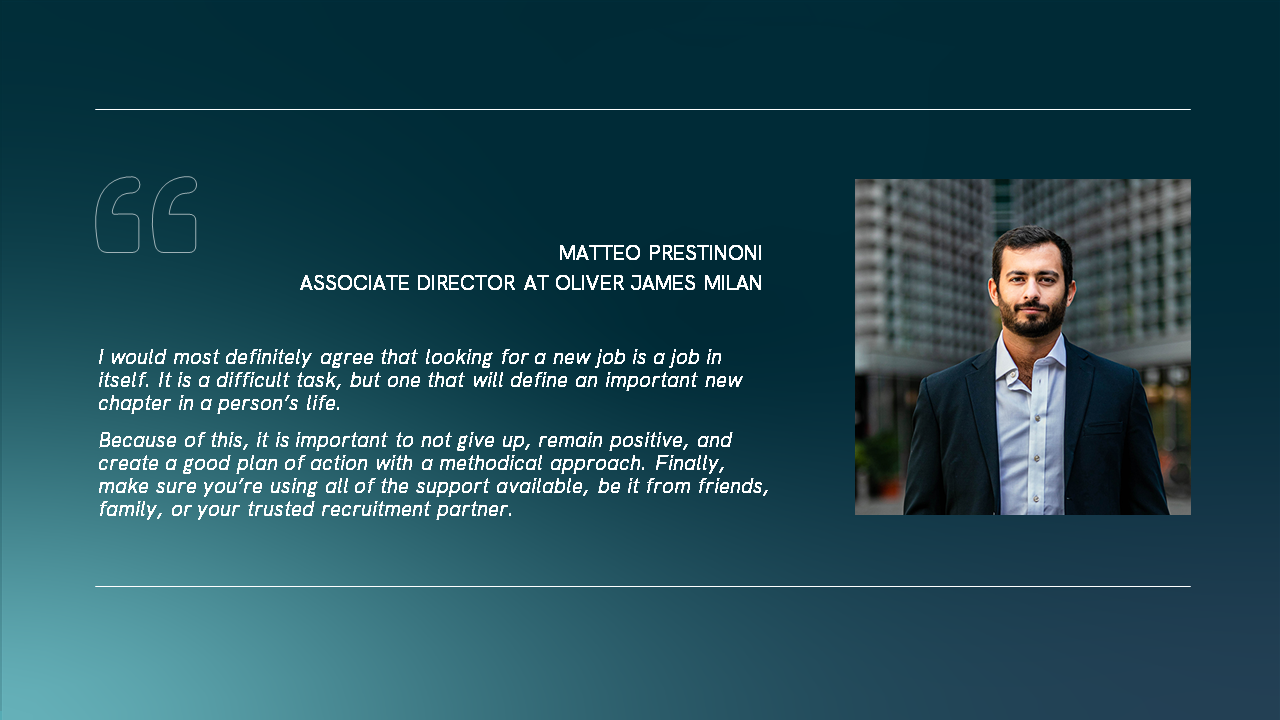 ​
If you're currently searching for your next opportunity, our Specialist Recruiters at Oliver James will be able to help you with all of the above. Oliver James operates across 14 different locations. Get in touch with a local recruiter via our Contact Page, or apply to one of our current jobs available in:
​
​