The job of an Actuary is to examine the potential risks present to a business and calculate the financial costs that these risks represent using mathematics, statistics, and financial theory. Actuaries also help businesses to put in place strategies that then help minimise these risks.
​Actuarial roles are therefore highly specialist, and this can make hiring people in this field pose a challenge for companies globally. In this blog, our New York Actuarial team covers what they're currently seeing in the job market, including hiring challenges, talent retention techniques, and the reasons why businesses hire contractors.
"Across our Actuarial Contract division, we deliver for our clients because we stay on top of market trends.
In the last few years, the biggest buzz across the industry has been around technology and regulatory change."
- Olivia Chrzanowski, Associate Vice President
​
The top reasons businesses are experiencing attrition
Experiencing attrition is a natural part of growing a business, and there are a wide range of reasons why employees will choose to leave. Knowing the top reasons for attrition within your business can help you to plan a strategy which counteracts these to the best of your ability, though you'll never be able to stop attrition completely.
Some of the top reasons businesses are experiencing attrition are; ​a lack of progression opportunities, setting salaries that aren't competitive, and on-site requirements. This shows us that employees are always going to value opportunities for growth and career development, whether that's a promotion or the possibility of utilising support from the company to continue building the skills and qualifications in their arsenal.
​
Biggest hiring challenges businesses are facing
Within the Actuarial market, we've seen businesses face hiring challenges such as losing candidates to competitors, hiring for a niche skillset, and competitive compensation packages. Working with a recruiter which provides expert market knowledge within the Actuarial market, as well as placing contractors, can help with finding the right new employee for your business. At Oliver James, our recruiters already have long-standing relationships with Actuaries across the US, and could provide the opportunity to search a wider talent pool for your specific requirements.
​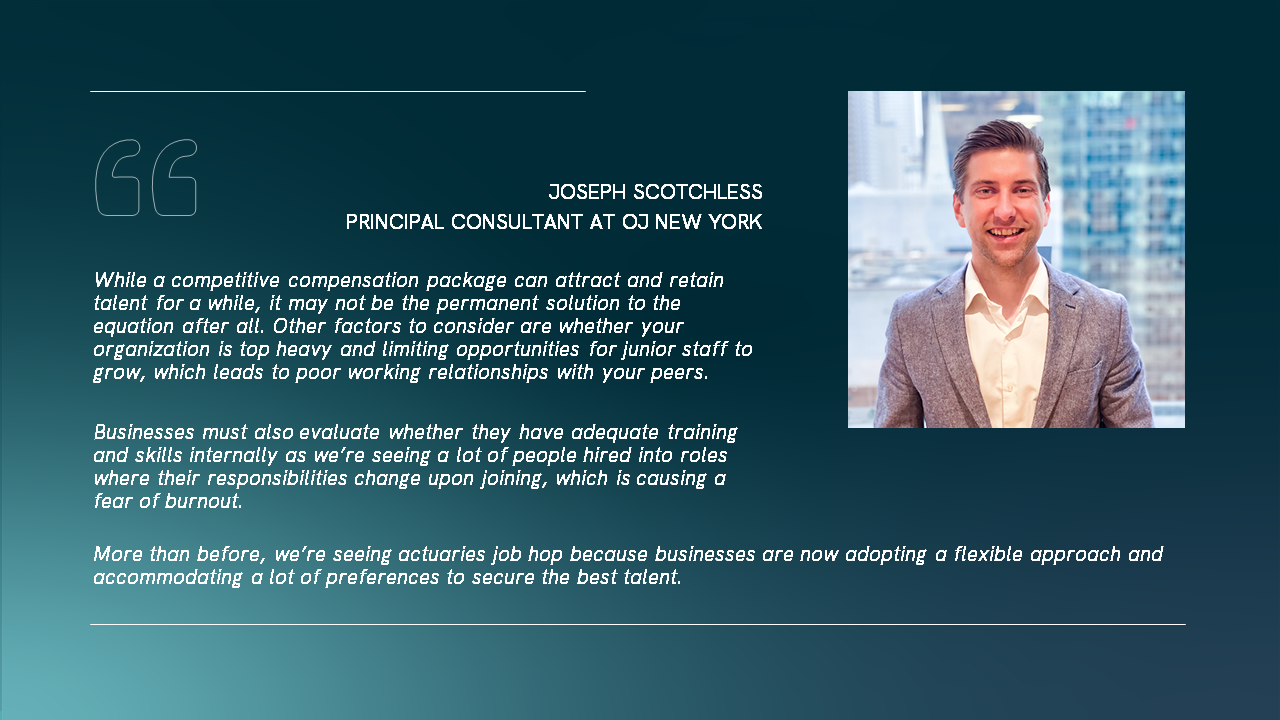 ​
What businesses are doing to retain talent
​Talent retention can pose a challenge for many businesses, and it's even more vital in the Actuarial market where you may be looking for someone with a niche skillset. Some of the top approaches to retaining talent that we're seeing from the businesses we work with include increased flexible working options, salary increases, and additional benefits.
​
Why businesses are hiring contractors
Hiring contractors has a wide range of benefits for a business. Contractors are proven subject matter experts within their field, they create a quick and easy plug for gaps during busy periods within your business, and their can expertise can be passed on to the wider team.
Specific to the Actuarial market, some of the reasons we've seen that businesses are currently hiring contractors for are modelling, valuations, and BAU work. In addition to all of the above, contractors also usually have a shorter or no notice period and provide the possibility of testing out a new skillset before deciding to hire long-term.
​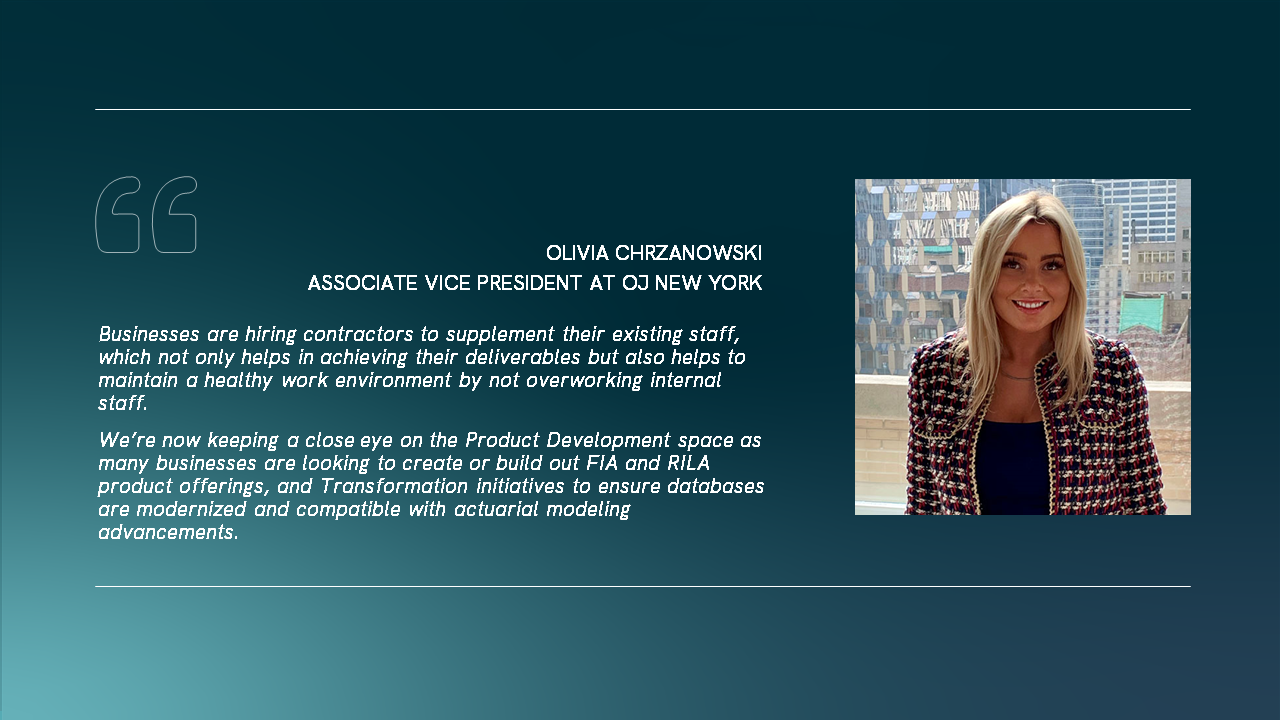 ​Whether you're experiencing attrition or hiring challenges, or want to know more about adding contractors to your team, get in touch with our New York team today via our Contact Page.
​"As companies strive to optimize and enhance their actuarial technologies to maximize efficiency alongside implementing new regulatory frameworks, we're finding top tier talent across the industry to help businesses meet their goals in a timely and cost-effective manner." - Olivia Chrzanowski, Associate Vice President
Want to find out more about what it's like to work with us? Visit our Work with OJ page for more information on the solutions we offer and how we operate.
​
​