​Ready for an adventure? Hong Kong is the place to be! The city is open for business and thriving, and what better place to be than one of the most vibrant and dynamic cities in the world?
Hong Kong has now reopened after the effects of the Covid-19 pandemic, and it's employment market is expected to continue to improve throughout 2023. Hong Kong has been consistently popular with those relocating for work, boasting a whole host of benefits, from great food and culture, to a truly welcoming community.
At Oliver James, we're proud to call Hong Kong home for over a decade and have great experience in relocating people to here from across the world! Here are the top 10 reasons why Hong Kong should be your next destination:
Job Opportunities
​As one of the major financial hubs in Asia-Pacific, Hong Kong offers a wealth of opportunities for ambitious professionals. With a thriving job market, great pay, and the highest real wage growth in the world, there's never been a better time to make your mark in Hong Kong. OJ Hong Kong operates across Accountancy and Finance, Actuarial, Data, IT Security, Legal, Risk and Compliance, Technology, and Transformation and Change Management. If you're looking for an opportunity within any of these areas, get in touch with one of our consultants via our Contact page.
Culture
​Hong Kong is a cultural melting pot, with a unique blend of Eastern and Western influences. With festivals and events year-round, including the iconic Spring Festival and Dragon Boat Festival, there's always something to celebrate in this city that never sleeps. Add to this a thriving arts scene with numerous arts and opera festivals in the city, and there's plenty for everyone to enjoy. ​​
Food
The extensive international community creates a tapestry of different cultures with Hong Kong, and this is highlighted in the great food available round every corner. ​If you do decide to relocate to Hong Kong, you can enjoy a range of cuisines from a range of cultures including Cantonese, Japanese, American, Italian, and French. Whether you want to dine at one of 71 Michelin Star restaurants, or try Dim Sum at one of many street food vendors, there really is something for everyone within Hong Kong's culinary scene.
Tax
Enjoy one of the world's lowest income tax rates and keep more of your hard-earned money. Also with no capital gains tax, sales tax or value-added tax, you'll have extra cash to indulge in all the amazing experiences this vibrant city has to offer!
Holidays
When you need a break from the city, you have a world of options at your fingertips. Just a few hours away by plane, you can explore the stunning beaches of Thailand, the lush jungles of Vietnam, or the tranquil beauty of Bali. A quick weekend away is a very common activity.
Safety
Hong Kong is one of the safest cities in the world, crime rate is almost non-existent, this makes it a perfect place to bring up family.
​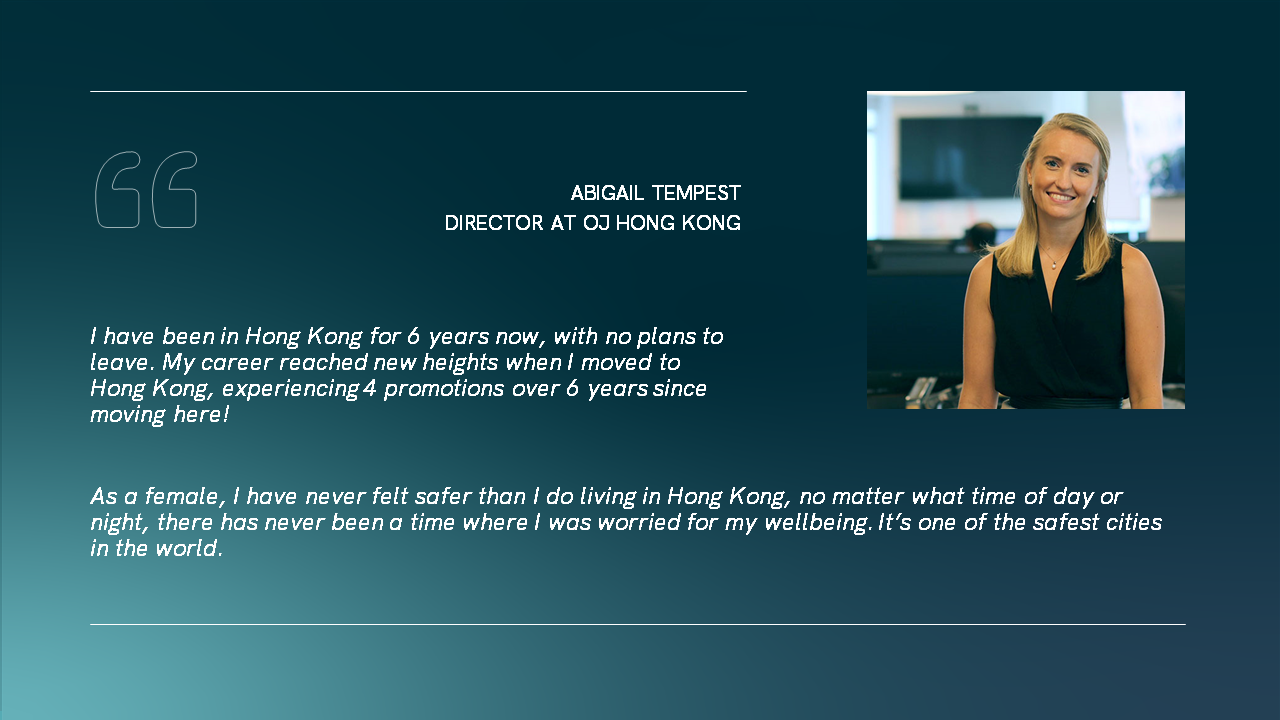 ​
Transport
With excellent bus and railway networks, getting around Hong Kong is a breeze. And with cheap taxis and a bike-sharing scheme, you'll have plenty of options for exploring the city. It's likely you won't even need a car once living there, so this could save you some money in the long run!
Childcare and Education
​Hong Kong offers a wide range of education options, from public schools to international schools that follow British, American, or Australian curricula. It is also part of the culture in Hong Kong to have a live in "helper"; this means you have a trusted childcare option available at most times, allowing a great balance between work, family and social life.
Nature
With more than 250 islands and approximately 70% of green space, Hong Kong has a lot to offer for those who want to get out in nature on your days off. If you prefer staying closer to home, Hong Kong's tropical climate makes it a great place to live and you can easily travel to either the beach or mountains which are just 15 minutes away. ​
Oliver James!
​Lastly, you'll find one of OJ's 14 offices right here in Hong Kong! OJ Hong Kong helps job seekers find their ideal job across a range of disciplines. So if you're currently looking for your next opportunity in Hong Kong, or are considering relocating here for work, take a look at our available jobs in Hong Kong.