Thinking of relocating but not sure what city would be best for you? Our Relocating for Work series covers the considerations of relocating along with quotes from our teams who can make it happen. For our second installment in the series, we're taking a look at what Milan has to offer.
The Financial, Industrial, and Fashion hub of Italy; Milan is the Capital of the Lombardy region in the North of Italy and provides an excellent offering for professionals worldwide. From great job opportunities to a high quality of life, continue reading to discover the benefits of relocating to work in Milan, and hear from Pietro, Director of OJ Milan and Madrid:
"After many years spent in the UK, returning back to Italy was full of new and old friends. All of whom I found are now concentrated in the Milan area, catalysed by the job opportunities that the city provides.
"Thanks to the tax breaks made available for Italian residents abroad and international citizens, Milan is indeed a meeting point for returned expats and international professionals. Both the opportunities and de-taxation policies attract the best profiles, with nothing to envy from other European capitals. "
​
​Excellent Job Prospects
With a wealth of job opportunities within banking, design, fashion, manufacturing, media, and the sporting industry, it's no surprise that Milan has one of the top economies in Europe. The unemployment rate in Milan is lower than the national average for Italy and for the rest of Europe. As an increasing amount of businesses are popping up in the city, from startups to international companies, the opportunities available are only going to increase.
​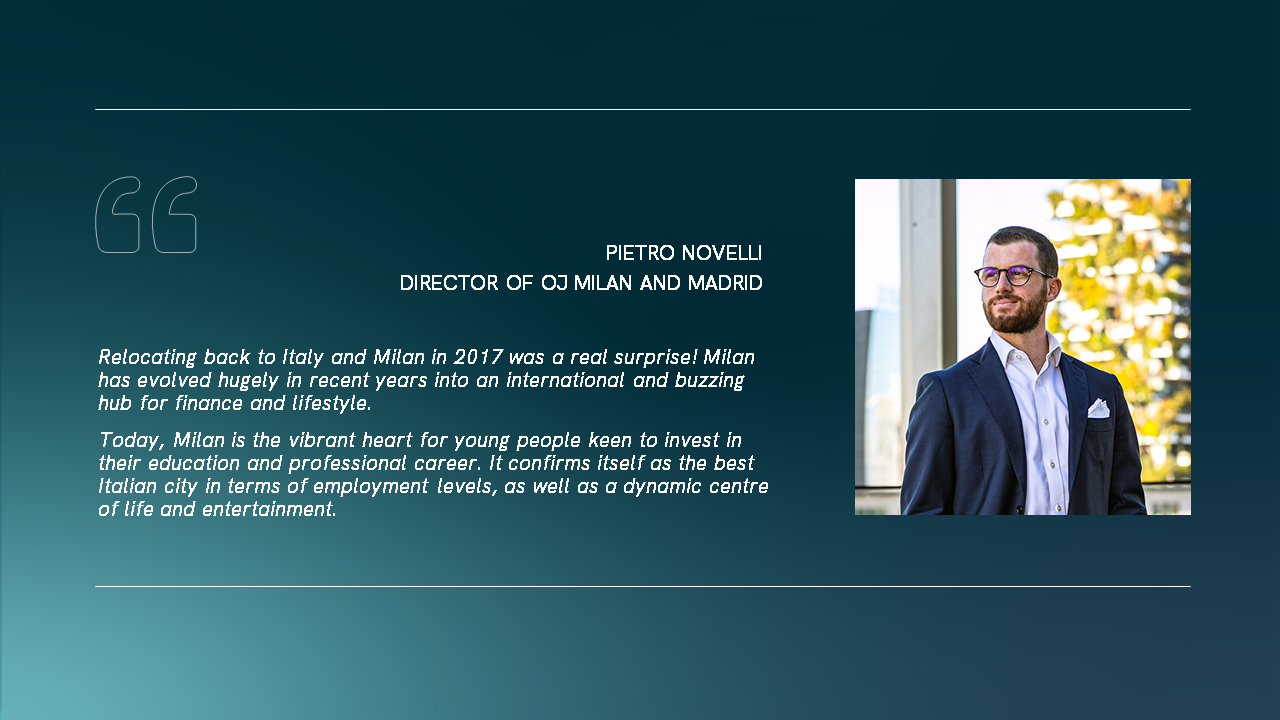 ​
Quality of Life
On top of the wide range of opportunities out there for those who choose to move to Milan, the city also has one of the best work-life balances when compared to other European cities.
According to the latest issue of the Global City Power Index, Milan ranked 5th among all European cities for Livability, which not only scores countries on their working environment, but also looks at the cost of living, safety, and wellbeing.
​
Ideally Situated
If you relocate to Milan, you'll also be ideally placed to reach great locations along the Mediterranean Sea, several lakes across the North of Italy, and the Alps! Milan has also been completely redeveloped in recent years, leading to the city attracting more talent than the countries capital, Rome.
The city also has great infrastructure, with three airports, good transport links, public and international schools, and healthcare provisions.
​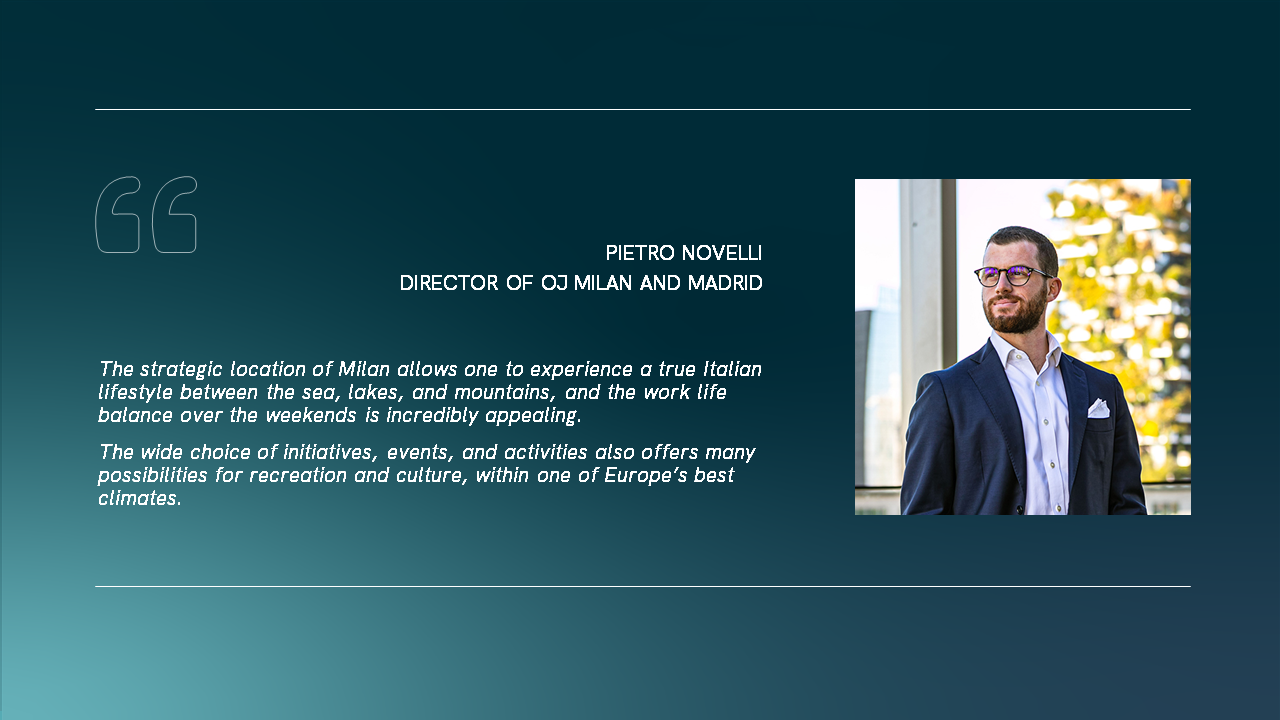 ​
Arts and Culture
For many, the first thing that comes to mind when we think of Milan is fashion. On top of the recent urban regeneration, Milan hosts some of the most popular and exclusive global events, including Fashion Week, Design Week, and Milan Film Festival.
Beyond these yearly events, which see people from all over the world flock to the city, Milan is brimming with arts and culture. Following their successful hosting of the 2015 World Expo, Milan will also host the Winter Olympics in 2026!
​
With many expats already taking up residence in Milan, the city is continuing to grow in popularity. At OJ, our Specialist Recruiters are experienced in finding job seekers their ideal role within a wide range of disciplines. We can also provide candid advice and support to those looking to relocate for work, giving you the confidence to make the move.
If you're interested in finding out more about relocating, speak to one of our recruiters using the details on our contact page.
​Looking for a new opportunity? Our Milan team specialises in:
Transformation & Change Management

Accountancy & Finance

Operational

Sales & Marketing

Actuarial

Technology